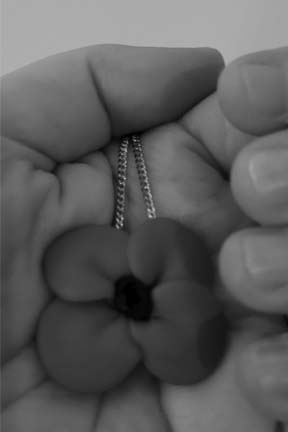 Holding memories and a poppy in hand, as Remembrance Day approaches.
I never knew Phil Doddridge personally, but I deeply appreciate all of the memories he shared with the Hong Kong Veterans Commemorative Association (HKVCA), memories that he gave me permission to quote in Dickies From Gunton: Canadian Brothers in Two World Wars.
As Doddridge wrote in his memoir published on the HKVCA website, "… my main purpose in writing it is to get down on paper what my life was like during those years."
These insights were invaluable, as one of the Dickie brothers was also a Hong Kong veteran.
Mr. Doddridge passed away on October 5 at the age of 100 in New Richmond, Quebec.
He was much younger than Earl Dickie, and joined the Royal Rifles of Canada rather than the Winnipeg Grenadiers. But, like Earl, he was among the nearly 2,000 Canadians sent to defend the doomed British Colony of Hong Kong. He knew battle, defeat, and years of suffering as a prisoner of war.
Of his time as a POW, he wrote, "For four years all my efforts would be concentrated on the determination to overcome the brutal conditions under which I was forced to spend my youth. It would be four long years until I saw Canada again …"
Doddridge was a young man when he signed up for military service for the Second World War. After returning home, he became a teacher, principal, and director general of a school board but the memories of his war experiences would stay with him for the rest of his life.
The Hong Kong veterans understood suffering in ways most of us could never imagine. For example, Doddridge wrote: "Apparently the extremities of the body are the first to feel the effects of malnutrition. Terrible pain, starting in the toes and working towards the heel led to depression, irritability, and lack of sleep."
Like Earl, Doddridge was a founding member of his local Hong Kong Veterans Association. Doddridge also served as the organization's last national president, before it passed the torch to the next generations and added Commemorative to its name. Most of the veterans are gone now, but their service, their sacrifice, and their suffering should never be forgotten.
I never knew Earl Dickie personally, but I was better able to understand his war experiences thanks to veterans like Phil Doddridge and their families who so bravely shared their stories over the years. Their words helped me to imagine what Earl's experience must have been like so I could write his story.
Thank you, Phil Doddridge.